Where can you find a Phil Robertson costume for Halloween? I have found them all for you! Phil is the original Duck Commander and built the original duck calls that started the Duck Dynasty empire, and also the father of Willie Robertson and Jase Robertson.
There are few things you need in order to dress up in a Phil Robertson costume for Halloween. Those are long grey beards, a camouflage headband, camouflage clothing and dark sporty sunglasses.
Make a Phil Robertson Halloween Costume
Here are the top Phil costumes from around the web. Click on each site to find a costume in stock and to get the best deal. There are wig and beard kits for kids and adults.  There are also fake beards for a Phil costume further down on this page. Be sure to check those out too.
AMAZON – Adults Phil Robertson Costume
AMAZON- Phil Beard Bandanna Costume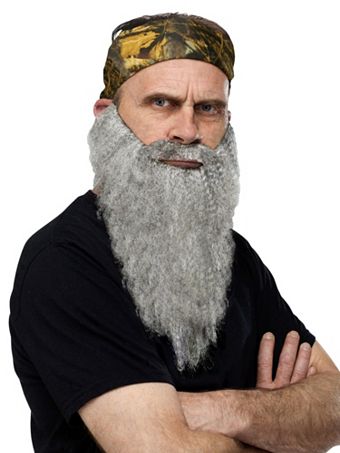 ANYTIMECOSTUMES – Phil Beard and Hat Set
HALLOWEENCOSTUMES – Phil Robertson Costume
AMAZON – Kids Phil Robertson Costume
AMAZON – Adults Phil Robertson Costume
Duck Dynasty Bandannas
Phil, Willie, and Jep all wear bandannas. Phil likes to wear a green realtree woodlands camouflage bandanna. Jep wears the Duck Commander bandanna, and Willie always wears an American flag bandanna.
 Duck Dynasty Bandana – American Flag Duck Dynasty Bandana – Brothers of the Beard Duck Dynasty Bandana – Camouflage
Black Sunglasses
Make your Phil Robertson Halloween costume look more authentic with a pair of really dark sunglasses like the ones Phil always wears. Phil wouldn't be caught dead without his pair of sunglasses, and your costume won't be complete without a pair. If you don't already own some, pick up a pair to go with your outfit.
More Fake Beards
It's the beards that makes Duck Commander guys so recognizable. Your Halloween costume idea will not be complete without a long grey beard. I have gathered several choices for you below. Go ahead and pick the one you like best, and add it to your shopping cart. Come on back here to finish putting together your costume for Halloween.
Camo Hat Wig Beard Set Halloween
Duck Dynasty Bearded Bandana
Duck Dynasty fake beards that are great for Halloween or anytime you want to dress up as a character from Duck Dynasty.
Make your costume look more authentic by adding a Phil Robertson t-shirt. This way people won't have to ask "who are you suppose to be?"!
Camouflage Is Like Their Religion!
No Duck Dynasty outfit is complete without camouflage clothing. Start with a camouflage jacket (cause it's cold in October!), then add a pair of camouflage pants. I have gathered some good choices for you below. Pick the ones you like best and add those to your shopping cart. But your costume isn't finished yet, so head back here to get the rest of your Phil costume items. He really likes the woodlands camouflage pattern best, but any camo would do. So I have added a few different styles to give you some options.
Add The Finishing Touches
You need that one item that people will instantly recognize. I have picked it out for you. All you have to do is carry this seasoning along with you and anyone in the world will be sure that you have dressed up as Phil Robertson for Halloween!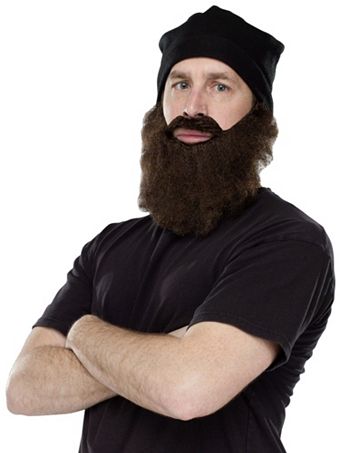 Brother Beard and Hat Set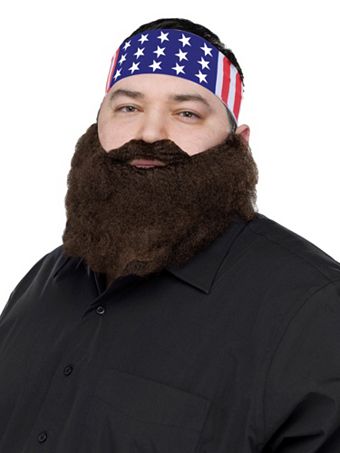 CEO Beard and Bandana Set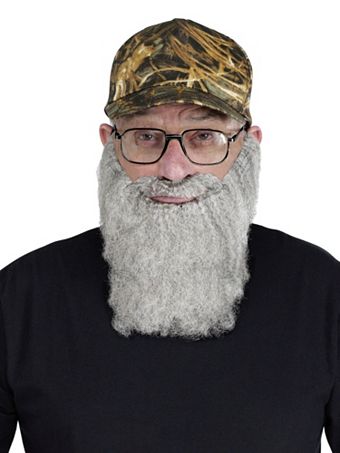 Uncle Beard, Hat and Glasses Set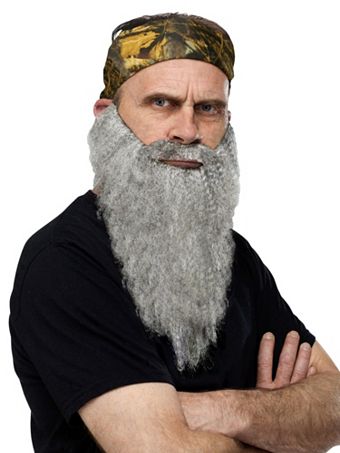 Commander Beard and Hat Set
Buy From Amazon
Buy From Amazon
Buy From Amazon
Si Robertson Costumes
Jase Robertson Costumes
Willie Robertson Costumes
There you go, everything you need to dress up as Phil Robertson – the Duck Commander for Halloween. There will be no doubt or questions asked about who you are this year for trick or treating or your office party. All your co workers will instantly recognize you as Phil Robertson if you use the items above to make your Halloween outfit.
Have a safe and fun time this year while trick or treating with your children.
More Duck Dynasty: